Our new anniversary was agreed to be held in July in order to enjoy the pleasures of a hot Siberian summer, warm sea and outdoor chilling. The place was a recreational one – Sosnovka resort, a nice area in a pine forest on the coast of our local Ob sea.
The program was prepared in advance and included a ropes course, with high and low elements, a picnic, a wide choice of summer outdoor activities (volleyball, tennis, inline skating, etc.), a grand banquet in honor of the anniversary and an afterparty for those wishing the party to go on.
The ropes course had its objective to open a wooden trunk with a treasure closed with four combination locks. The numbers of the code were revealed to the teams after their successful solving tricky tasks such as climbing a rope ladder hanging between the pines, going through a spider web without touching the ropes, and so on, and so forth.
The whole course took about 4 hours and the teams once more realized the necessity to solve all the tasks after careful planning and with mutual support. The treasure appeared to be beer accompanied with a funny tale about the company and its adventures with ordered T-shirts, which we still hope to get from the US (thanks, customs!).
A bit exhausted after the ropes, we went on to have a picnic with barbecue, wine and beer organized in an Arabian summer pavilion in pine forest. Then, during the free time some played soccer and volleyball, others went skating, still others enjoyed taking sun baths and swimming.
The banquet was the culmination of the celebration with Tim Prokhorov as a host introducing the traditional company movie, this time in the format of a Soviet news TV program "The time". Our novices could also learn the whole history of the company from another movie, shot for one of the previous anniversaries. After a number of entertaining contests, we finished the banquet with eating a traditional Sibers cake and setting off fireworks.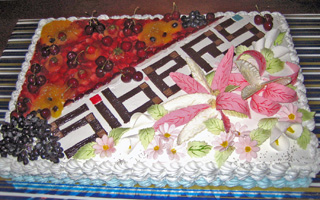 Huuuuge cake
The afterparty couldn't help turning a success, and such it was, according to the participants responses.